Ta spillegleden med på tur!
Journey Guitars Norge fører alle produktene i Journeys katalog. Vi holder også originale reservedeler. Betal med VIPPS, Bambora, ApplePay eller PayPal. Du kan også be om avbetaling.
Journey OF312 Mahogany Travel Guitar
OF312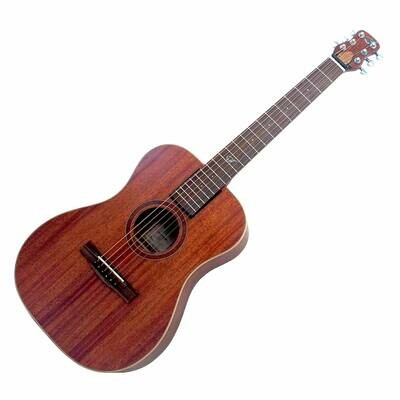 Gitarer
OF312 Overhead® Solid Top er en sammenleggbar reisegitar i såkalt 00 størrelse. OF312 er en forbedring av den populære OF310-modellen, med større kropp og lukket mekanikk.

Hel afrikansk mahogny topp og bunn, og laminat av samme treslag på sarger. Den kan pakkes sammen til en bærbar størrelse på 55.9 x 35.5 x 22.9 cm på 20 sekunder, ved help av det patenterte systemet for montering / demontering av halsen.
Full 24.5" mensur, 1 3/4 gripebrett. Materialvalg av beste kvalitet og et "wegded" ergonomisk design gjør denne gitaren til noe av det morsomste du har prøvd.
Kommer med three-piezo passikv pickup og en supersolid reisebag som er er kapittel for seg selv.
Prisene på gitarer fra Journey Instruments er satt i henhold til veiledende pris fra produsent. Finner du en modell billigere på et annet nettsted, dekker vi mellomlegget.
Se spesifikasjonene under.
[tab name="Review"]
Designed for Travel
The Overhead travel guitar uses a patented collapsible neck system which allows for assembly/disassembly in a matter of seconds. [View Youtube Video]
After packing in its travel backpack the Overhead travel guitar can be carried-on to most major airlines, easily fitting in the overhead bin compartment.
Travel backpack includes a TSA compliant laptop tablet fold-out panel which can be scanned by airport security without having to separately remove laptop.
Proprietary under-bridge transducer pickup system accurately amplifies the guitar and comes with all Overhead guitars.
Full Tone in a Travel Body
The wedge design gives a lower shoulder/bout depth that's deeper than a dreadnought, allowing the smaller body size to deliver great volume and booming bass.
Bone nut, compensated bone saddle, and ebony bridge pins all help produce the the tone preferred by acoustic guitarists.
Traditional sound-hole design with forward-shifted, tapered X-bracing maximizes the resonance and volume of the soundboard.
Comfortable to Play
The wedge design angles the guitar into your body which places the guitar in a comfortable position for fingerboard access and viewing.
The dual-action steel truss-rod enables fine tuning of relief to suit any playing style.
Satin-finish low-c profile neck make this 24.5 inch scale super comfortable to play.
[tab name="Spesifications"]
Proprietary Body Design:

Stylized 00 body shape
Center sound hole with African Mahogany rosette
Wedge design for increased volume, comfort and efficiency

Soundboard:
Hand-selected premium solid African Mahogany
Back and Sides:
Premium solid African Mahogany back, laminate sides
Bracing:
Forward-shifted tapered X-bracing
Compound block for reduced weight and strengthened latch support
Binding and Markings:
MOP logo and position markings
Maple binding
Scale:
24.5 in (622.3 mm)
Finish:
Satin on soundboard, back, and sides
Bridge:
Ovangkol, high break-angle
Tuners:
Grover® 18:1 or Journey 18:1 Locking Tuners
Electronics:
Included JourneyTek™ under-bridge upgradeable passive 3-piezo transducer pickup system delivers accurate and clear amplification for any PA system or amp.
Removable Neck Assembly:
Stainless steel load-bearing components
Push-button release latch under neck
Large adjustment knob on back
Neck:
Carbon fiber reinforced traditional C shape with two-way adjustable truss rod
Solid African Mahogany
Deep-slotted bone nut
Neck width at nut: 1 ¾ in (44.5 mm)
Neck width at 12th fret: 2.2 in (56 mm)
14 Frets to body
20 Frets total
Fret Board:
16 inch Radius, Ovangkol
Medium brass fret wire
String Spacing:
2 ¼ in (>57.2mm)
Compensated bone saddle
Strings:
Elixir® Phosphor-Bronze Lights
Guitar Dimensions and Weights:
Weight: 4.4 lbs (2.0kg)
Weight With Case: 7.4 lbs (3.3kg)
Maximum depth: 4.64 in (11.8cm)
Minimum Depth: 3.5 in (8.9 cm)
Body Length: 18 in (45.7cm)
Total Length: 35.5 in (90cm)
Lower Bout Width: 13.25 in (33.7 cm)
[tab name="Backpack"]
Tech Travel Ready:
TSA compliant 14-inch computer compartment for optimal airport security inspection
Easy-access tablet pocket for up to 9.5 inch tablet devices
All- Premium Material Construction:
Extra-durable Ballistic Nylon external case with premium nylon and velour lining
Extra-padded Body compartment with premium velour
Internally-accessible padded neck compartment with premium velour and string slot
Padded string panel with strings positioning tab
Padded Top and Side handles
Extra Compartments for Your Journey:
Internal/externally accessible compartment for accessories
Additional external topside pocket for additional accessories
Additional elastic pockets in computer compartment
Hideaway, reinforced padded backpack straps with padded back
Maximum Case Dimensions: L*W*H: 22*14*9 in ( 55.9*35.5* 22.9 cm)
Note: Some cases may open from the opposite side to accomodate additional guitar models that share the same guitar case.
[endtab]
Jourrney Instruments holder til i USA
#journeyguitar #journeyinstruments #travelguitar #reisegitar #journeytravelguitar

Merke:
Journey Instruments
Type:Solid Top Mahogany Travel Guitar
Modell:OF312