Ta spillegleden med på tur!
Journey Guitars Norge fører alle produktene i Journeys katalog. Vi holder også originale reservedeler. Betal med VIPPS, Bambora, ApplePay eller PayPal. Du kan også be om avbetaling.
Journey OF660M Carbon Travel Guitar
OF660M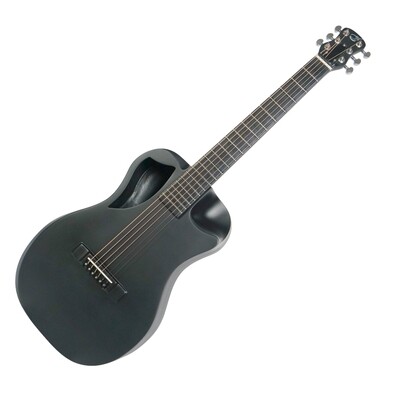 Gitarer
Price :
13160
NOK
In stock
OF660 Overhead™ Carbon Travel er en fantastisk lett og bærbar reisegitar, laget i karbonfiber. Den er sammenleggbar og kan pakkes sammen til en størrelse på 56 x 35,5 x 23 cm!

Dette produktet er tilgjengelig i flere farger. Se tilvalg.

Du pakker den opp på 20 sekunder, og med det patenterte systemet for å montere / demontere halsen og unike konstruksjon i karbonfiber, framstår dette som et durabelt instrument med en fantastisk lyd.

Modifisert "00" -størrelse kropp, full 23.5 tommer mensur, 1-3/4 gripebredde, et ergonomisk design pluss øvrige komponenter av best kvalitet. Dette er trolig den morsomste gitaren du noen gang har spilt med!

Tri-piezo passiv pickup og en fullt utstyrt solid reisebag er inkludert. Kofferten er et kapittel for seg selv, med lett tilgjengelige lommer for tablet eller PC og tilbehør. Dimensjoner 55.9 x 35.5 x 22.9 cm.
Se videoen i bunnen av teksten.
Velg Butikk fra menyen eller klikk her for å se hele utvalget.

Prisene på gitarer fra Journey Instruments er satt i henhold til veiledende pris fra produsent. Finner du en modell billigere på et utenlandsk nettsted, dekker vi mellomlegget.

[tab name="Review"]
Designed for Travel
• The Overhead™ travel guitar uses a patented collapsible neck system which allows for assembly/disassembly in a matter of seconds.
• After packing in its travel backpack the Overhead travel guitar can be carried-on to most major airlines, easily fitting in the overhead bin compartment.
• Travel backpack includes a TSA compliant laptop tablet fold-out panel which can be scanned by airport security without having to separately remove laptop.
• Proprietary under-bridge transducer pickup system accurately amplifies the guitar and comes with all Overhead guitars.
Full Tone in a Travel Body
• The wedge design gives a lower shoulder/bout depth that's deeper than a dreadnought, allowing the smaller body size to deliver great volume and booming bass.
• Bone nut, compensated bone saddle, and ebony bridge pins all help produce the tone preferred by acoustic guitarists.
• Offset sound-hole design maximizes the resonance and volume of the soundboard and proprietary bracing and layup structure produce a spectacular tone for such a compact instrument.
Comfortable to Play
• The wedge design angles the guitar into your body which places the guitar in a comfortable position for fingerboard access and viewing.
• The dual-action steel truss-rod enables fine tuning of relief to suit any playing style.
• Matte-finish low-c profile neck make this 24.5 inch scale super comfortable to play.
• Scoop-away™ design gives full access to all 20 frets, yet maximizes inner air volume of the instrument for maximum acoustical volume.
[tab name="Spesifikasjoner"]
Proprietary Body Design:

• Stylized 00 body shape

• Mid-position offset sound hole for maximum resonance

• Scoopaway™ for access to all 20 frets while maintaining maximum volume

• Beveled back for maximum playing comfort

• Wedge design for increased volume, comfort and efficiency

• Beveled soundboard armrest for maximum comfort
Soundboard:
 Unidirectional carbon fiber with proprietary carbon fiber bracing
Back and Sides:
 Fiberglass reinforced carbon fiber
Markings:
 MOP logo and position markings
Scale: 
24.5 in (622.3 mm)
Finish:
 Matte polyurethane
Bridge:
 Carbon Fiber, high break-angle
Tuners:
 Grover® 18:1 precision mini chrome tuners
Electronics:
 Included Journey™ under-saddle passive transducer pickup system delivers accurate and clear amplification for any PA system or amp.
Removable Neck Assembly:
 Stainless steel load-bearing components
Push-button release latch under neck
Large adjustment knob on back
Neck:

• Carbon fiber reinforced traditional C shape with two-way adjustable truss rod

• Deep-slotted bone nut

• Neck width at nut: 1 ¾ in (44.5 mm)

• Neck width at 12th fret: 2.2 in (56 mm)
14 Frets to body
20 Frets total
Fret Board:
 16 inch Radius, Carbon Fiber
Jumbo brass fret wire
String Spacing:
 2 ¼ in (>57.2mm) 
Compensated bone saddle
Strings:
 Elixir® Phosphor-Bronze Lights
[tab name="Dimensjoner og vekt"]
Weight: 4.1 lbs (1.9kg)

Weight With Case: 7.6 lbs (3.5kg)

Maximum depth: 4.64 in (11.8cm)

Minimum Depth: 3.5 in (8.9 cm)

Body Length: 18 in (45.7cm)

Total Length: 35.5 in (92cm)

Lower Bout Width: 12.5 in (31.8 cm)

Maximum Case Dimensions: L*W*H: 22*14*10 in (55.9*35.5* 22.9 cm)
[tab name="Spesifikasjoner reisebag"]
Tech Travel Ready:

• TSA compliant 14-inch computer compartment for optimal airport security inspection

• Easy-access tablet pocket for up to 9.5 inch tablet devices
All- Premium Material Construction:

• Extra-durable Ballistic Nylon external case with premium nylon and velour lining
• Extra-padded Body compartment with premium velour
Internally-accessible padded neck compartment with premium velour and string slot

• Padded string panel with strings positioning tab
Padded Top and Side handles
• Extra Compartments for Your Journey:
Internal/externally accessible compartment for accessories

• Additional external topside pocket for additional accessories
Additional elastic pockets in computer compartment
Hideaway, reinforced padded backpack straps with padded back
Maximum Case Dimensions: ( 55.9*35.5* 22.9 cm)
 L*W*H: 22*14*9 in
[endtab]
" The OF660 collapsible carbon fiber travel guitar series is arguably the best acoustic travel guitar you'll ever find. "

Journey Instruments holder til i USA
#journeyguitars #journeyinstruments #journeycarbonguitar #journeyguitar #travelguitar #reisegitar #journeytravelguitar
Merke:
Journey Instruments
Type:Carbon Travel Guitar
Modell:OF660M